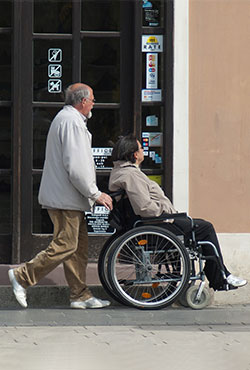 The local grocery store, the mom-and-pop shop down the street, the hardware building around the corner, the corporate office ten minutes west of downtown — they all have the same thing in common: Each of these businesses is looking to serve a purpose, and more specifically, to serve people.
Since the Americans with Disabilities Act came into effect in 1992, serving people means that businesses in buildings built prior to 1992 have needed to make a shift. The law requires each business in the United States to become ADA compliant, which means that people of all abilities may access the facility and/or apply to work there in a fair manner. Actions must be taken to make your building accessible.
However, the law takes into account the fact that many buildings or businesses simply don't have the budget to plan out an infrastructural overhaul. Your business needs to take actions that can easily be accomplished, and the law recognizes that you do not need to spend money that your business might not yet have in order to be compliant.
There are many things you can do, on both a grander and smaller scale, to ensure that your company is compliant with the ADA. The mobility solutions team at Able Care Group can absolutely help make this happen, and make a significant difference in your business.
This is the time for you to connect with Able Care Group. Our business can help your business, and we would be more than happy to help make your business become more accessible and ADA compliant. Take a look at some of the key things to keep in mind for following ADA compliance, and work with Able Care Group for aluminum ramps, vertical platform lifts, stairlifts, and so much more!